Hello Engineers and 3D Printing Enthusiasts!
As you have already seen from the title, in today's episode we reveal the connection between Rapid Prototyping with MJF 3D Printing and the historic Fiat 500.
We are still in our PolyDlab, the MJF Professional 3D printing technical laboratory, where we analyse 'extreme' projects sent in by our followers and customers, and then 3D print those that have competed according to the evaluation criteria.
In this article we discuss how to transform - in a historic Fiat 500 - the old carburettor fuel system with electronic injection.
To find out more about PolyDlab you can read the previous articles, which we summarise here: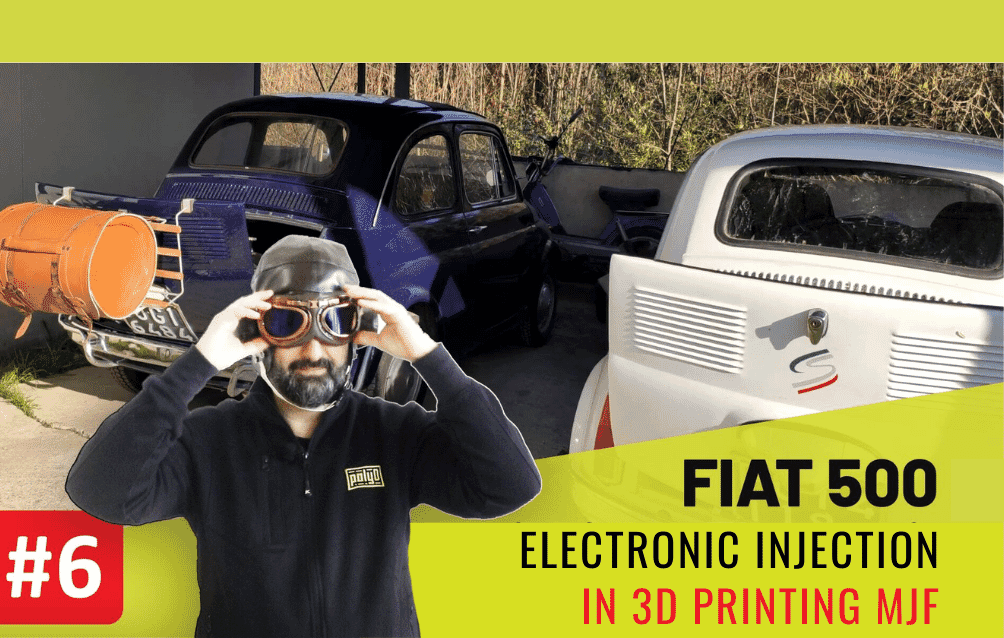 PolyD, vintage Fiat 500 with electronic injection
PolyDlab is the MJF Professional 3D printing technical lab. Here we analyse your extreme 3D printing projects and print them free of charge, if they meet the following 5 simple criteria:
Resolution quality of the STL file;
Degree of Optimisation of 3D Printing;
Aesthetics and Details;
Printability;
Usefulness of the part.
If you would also like to participate, please send us your .STL file to labpolyd@gmail.com
Electric Injection in 3D printing
The piece selected by our experts is that of Leonardo Piro from Cosenza.
Our follower works with automated cutting systems, while in his spare time he dabbles in 3D design. Thanks to this passion, accompanied by a true devotion to the vintage Fiat 500, he created the project with which he decided to participate in our contest. Her project is based on the idea of replacing the old carburettor fuel system with electronic injection. This makes it more efficient, less polluting and affordable for everyone, while retaining its originality.
At the time when the 500 was born, i.e. towards the end of the 1950s, engines were fuelled by carburettors; this method of fuelling made engines subject to changes in humidity, temperature and altitude. The solution to these problems came with the advent of electronic injection: with his idea, our follower Leonardo has modernised his 500 by a few decades!
Leonardo's idea was to provide a plug & play, low cost, repeatable and customisable product that could make a classic car environmentally friendly. He therefore worked on the construction of a new throttle body in PA12 material, with MJF technology, so that it would be:
economical,
resistant to the high temperatures in the engine compartment and cylinder head,
resistant to the passage of hydrocarbons,
resistant to subsequent machining.
Then some components were prototyped in 3D to see the overall dimensions and tolerances. In detail, the system consists of
throttle body, with two bearings inside which the brass shaft will turn;
the upper curve, housing the injector, where the petrol will flow;
a set of bolts to engage the throttle body;
a spanner at the top to tighten everything.
Leonardo then integrated the mechanical part with the electronic one, thanks to his friends Luca Scuto, Antonino Alba and Andrea Zaffino. This allowed them to manage the sensors that monitor all the engine's prarameters.
The part designed by Leonardo is in 3D printed nylon PA12.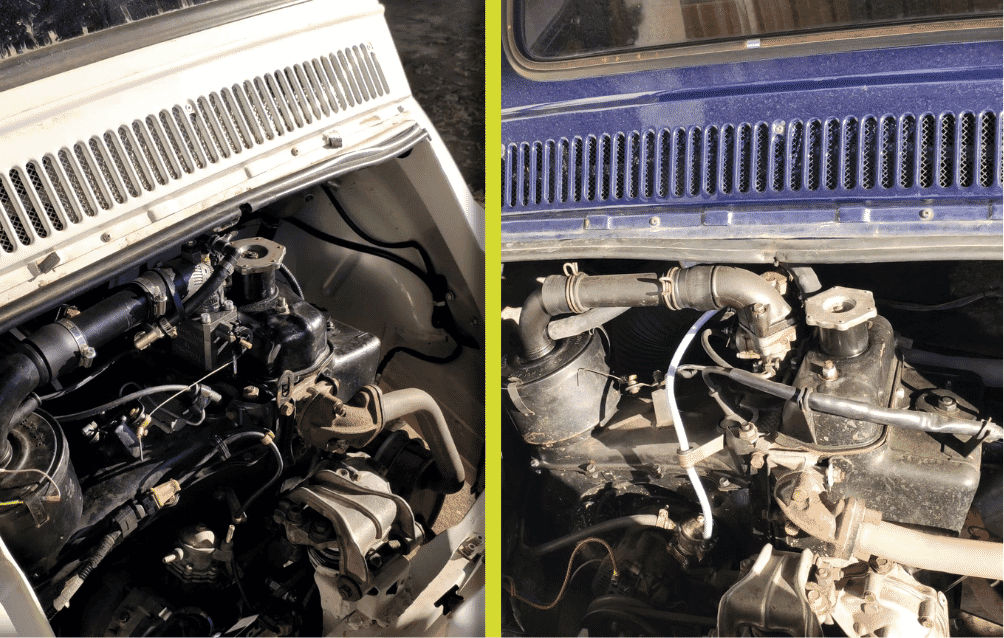 Let us analyse the 5 criteria for the Rapid Prototyping realised by Leonardo:
1. QUALITY OF THE STL FILE
The file received does not present any criticalities, indeed it seems to be studied in every detail.
VOTE 5/5
2. 3D PRINT OPTIMISATION
As Leonardo explained in the video, his project needed a technology that would produce parts resistant to hydrocarbons and high temperatures. For this reason, he first thought of having the parts produced by CNC, an idea that was later abandoned due to the high costs. Leonardo then came across our website - Polyd.com - where he discovered the MJF 3D printing technology and decided to give it a try. The printed parts are very robust; he probably could have optimised the throttle body more by lightening it in some places, so as to save material and achieve even more economic savings.
Rated 4/5
3. AESTHETICS AND DETAILS
As mentioned earlier, the parts tend to reflect the originality of the engine components and not only that, in fact the housing of the new throttle body is designed to take advantage of the old carburettor mounting system. The design is truly unique and we particularly liked the customisation of the manifold and throttle body with its logo.
Rated 5/5
4. PRINTABILITY
We have very little to say on this point, the parts are solid and well moulded.
Vote 5/5
5. UTILITY
Anyone who is a car enthusiast knows that carrying out a conversion of this kind is very costly, as well as employing several people to deal with mechanics, electronics and, above all, to adapt a 70-year-old heat engine to a modern system such as electronic injection. Leonardo managed to pack all the mechanical components into a few hundred euros, and not only that, this project is reversible as it does not involve any changes to the original engine block.
Any classic car enthusiast is well aware of the problems associated with a carburettor-powered car: if it is too cold it won't start, if it is too hot it won't start, if it has been stationary for too long it won't start... in short, it probably won't start right away.
So our follower's idea was ingenious, and he deserves praise for it.
Rated 5L/5
Conclusion
Well, let's make a brief summary of the grades assigned to this project: file quality 5/5, 3D printing optimisation 4/5, aesthetics and details 5/5, printability 5/5 and finally usefulness 5L/5.
The final grade, obtained by adding up all the scores and dividing them by the number of criteria, i.e. 5, is 4.8, which would put this project on a par with our friend Lucio's prosthesis, but thanks to the praise in one parameter, it is one step above.
If you would like to know more about this project here are Leonardo's references:
leopiro80@yahoo.it

If you are looking for a reliable partner for the online 3D printing of Prototypes, Parts and Components, try the Instant Online Quote: in 1 second you get the quote.
And your first order is free.
Happy 3D printing!