If you are a professional, an architect or a company that builds buildings, 3D printing allows you to print miniature models of architectural projects, almost like scale prototypes of civil, industrial and rural buildings. It can be a great way to preview them to your clients and gain their approval.
In this article we discuss the 5 best native 3D software for architecture and some software that, although not born with this purpose, performs the function.
The 5 best 3d software for architecture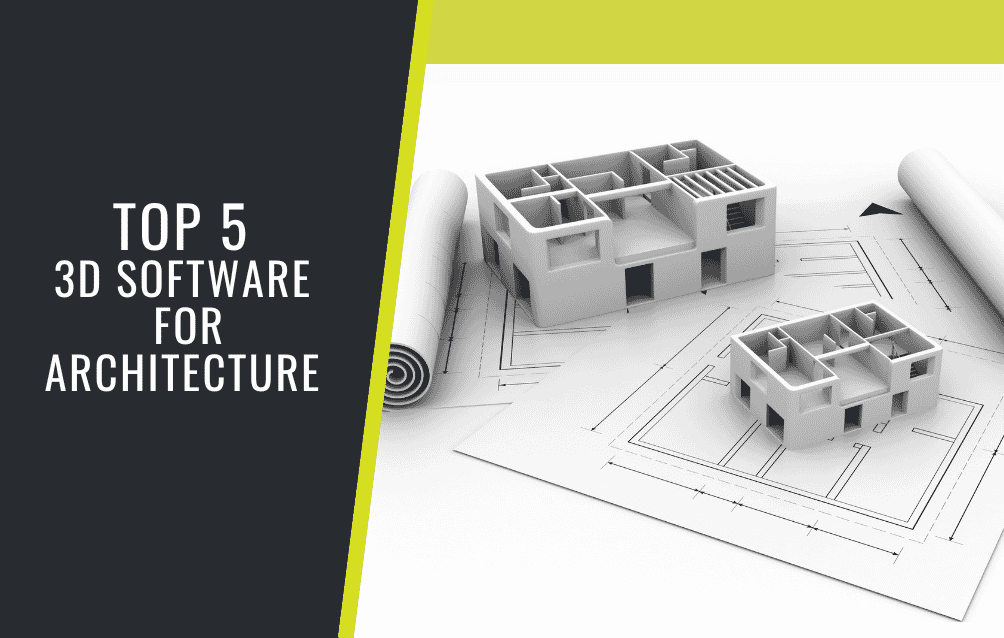 If you are an architect, a building engineer, or a construction company, you have probably also started using 3D printing to show your clients 3D scale models of your architectural structures designed for them, in order to make it easier to imagine the work once completed. 3D modelling software allows designers and architects like you to produce 3D prototypes of civil, industrial or rural architecture with different materials available.
What is 3D modelling software
3D modelling software for architecture are 3D programmes that offer tools for the design and modelling of buildings, furniture, works in general, with very realistic material and texture details. They have the double advantage of optimising your work and the communications of your staff and of showing your clients with a convincing preview, exactly what you will realise.
3D modelling software for architecture
AutoCAD, AutoCAD Architecture and AutoCAD Civil 3D
AutoCAD is technical software from Autodesk and is used to draw and design solids and surfaces in 3D in the fields of engineering, mechanics, architecture and electronics.
Also from Autodesk are the AutoCAD Architecture and AutoCAD Civil 3D software.
AutoCAD Architecture 2023 is included in AutoCAD and is a comprehensive and practical set of tools for quickly completing your architectural projects, saving time and automating tasks. It has over 8,500 architectural components.
AutoCAD Civil 3D is suitable if you are a civil engineer or construction company. This software allows you to build infrastructure using the power of BIM (Building Information Modeling).
Finally Architecture, Engineering & Construction Collection is an integrated set of tools including AutoCAD, Autodesk Civil 3D, AutoCAD Architecture.
With these tools, it is possible to export files in .STL format for online 3D printing of the model and prototype.
Autodesk Revit
Revit is also a CAD and BIM software, developed by Autodesk specifically for architecture. It helps architects, engineers, MEP designers and construction companies like you to create quality buildings. It allows shapes, structures and systems to be modelled in 3D at all stages of a building's life. Revit is a paid-for software and allows export of files in .STL format.
Archicad
Archicad, open BIM building design software, was developed by Graphisoft. It is available for Windosws and Macintosh. It allows you to design urban environments, civil and industrial buildings of any size, and interior furnishings. The renderings produced are of very high quality and can be exported as .STL files. Archicad is chargeable, but a free licence is available for students and teachers.
Chief Architect
If you are an architect, interior designer or simply a DIY home enthusiast and do not have much modelling experience, Chief Architect has an intuitive interface and panoramic renderings that can be shared with clients.
Cedreo
If you are a construction professional, you can design houses and customise their interiors and exteriors, thanks to the extensive object library in Cedreo. Cedreo has a free trial version that allows you to create up to 20 realistic 3D renderings.
Other 3D modelling software
The following software is useful for architecture, but was not created specifically for this purpose:
Rhino 3D
Rhino 3D is mainly used for industrial design and architecture; it allows you to create, analyse, render, animate and translate surfaces and solids into NURBS curves. It is a paid software.
3D Studio Max
3D Studio Max belongs to the Autodesk family, resembles AutoCAD and was primarily created for the gaming industry. If you are an architect, interior designer or construction company, you can use it to create excellent renderings.
CATIA
CATIA is a software used in many industries such as high-tech, architecture, automotive and allows you to create accurate and complex models.
If you are interested, you can learn more in our article on professional 3D printing software.
Solidworks
Solidworks is mainly used by engineers; it allows work on the design of buildings, but does not allow the creation of complex renderings, because it is not natively dedicated to architecture. Read more in the article on professional 3D printing software.
Among the 3D modelling software also used for architecture is SketchUp, which has a free version.
SketchUp
SketchUp is one of the most widely used applications by urban planners, architects, engineers, but also enthusiasts, whether graphic designers or architects, because of its intuitive interface and because it allows simple and even complex projects to be created easily. There are free licences such as Sketchup Make and paid licences such as SketchUp Pro. SketchUp allows files to be exported in .STL format.
Conclusions
There are several software packages that can be used in architecture; the choice between one of the above-mentioned depends on your needs and familiarity with using them.
If you have a clear idea of what you need and you are approaching these tools for the first time, SketchUp and ArchiCAD are suitable software for beginners, although you always need some experience in 3D modelling to get the best result.
If you want to learn more about 3D modelling software in general, read also:
If you have any questions regarding the subsequent 3D printing of your models and prototypes, please contact us. If you want to try your hand at 3D printing online, take advantage of our Online Estimator; in just a few seconds you get your estimate and your first order is free!