3D printing enthusiasts,
today we would like to tell you about PolyD's free online converter and the possibility of converting .STEP files into .STL format.
This format is the most commonly used in 3D printing for estimating and producing parts and prototypes.
Follow us for more.
Before we understand how the .Step to .Stl File Converter works, let's define what .step and .stl files are and why it is useful to perform the conversion.
3D printing formats
3D printing formats are divided into several macro families. You can choose to use work formats or programmes that allow you to retain the original design characteristics of the prototype. The big distinction in 3D files is between 'path' and 'mesh' files. 3D models in .step are vector formats; .stl models are in mesh.
What is the .STEP file format
The .STEP file, also known by the extensions .STE or .STP, contains information about three-dimensional objects, saved in the standard format for exchanging product data: the ASCII text format. This format complies with STEP ISO 10303-2xx application protocols. Due to its ASCII structure, it is easy to read, but can only be launched by certain applications, so it is often converted into .STL files.
What is the .STL Format and why is it useful to convert to this format?
STL (Stereo Lithography Interface Format, or Standard Triangulation Language, or even Standard Tassellation Language) is a file format that is widely used in 3D printing and is mainly used for rapid prototyping. It describes the geometry of a 3D object without applying any colour, texture or other attributes. To recreate the object in 3D, it uses a series of interlocking triangles: the more triangles, the higher the resolution. The interlocking of several triangles is commonly called a Mesh. If you want to learn more, read our article on the 5 mistakes not to make in STL files.
The 5 Advantages of Using PolyD's Free Online Converter
Use it with any operating system and it works with mobile and desktop devices: Windows, Mac, Iphone and Android, as long as there is a web browser. The Online STL Converter does not require installation; it converts your files directly online.
It is completely free of charge.
You can choose the resolution level of the file to be converted: low, medium, high.
In a few moments you have your file in .STL format
Confidentiality is Guaranteed: we delete your file after conversion.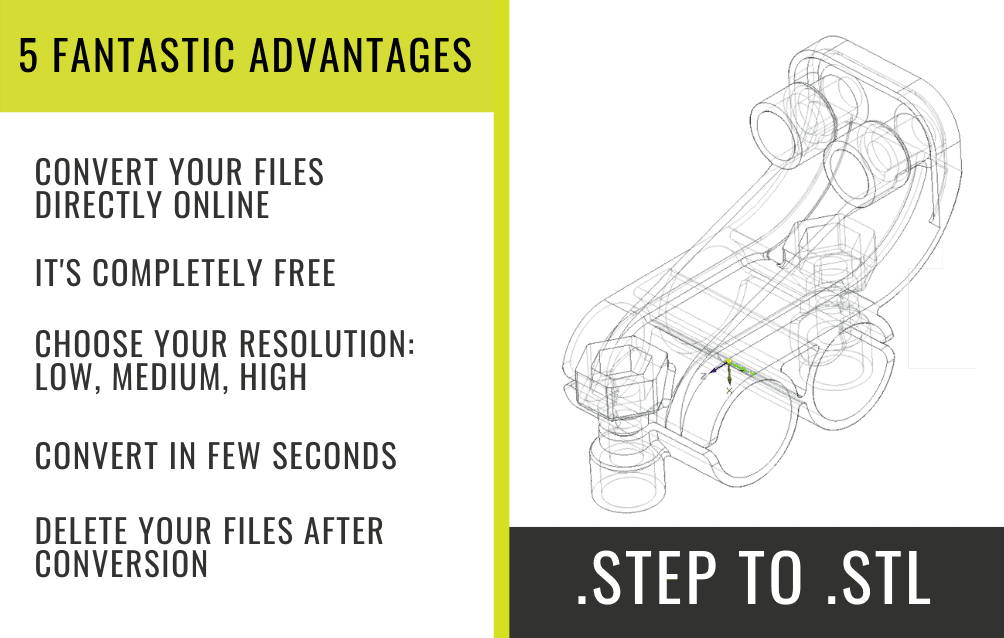 Upload your .STEP file: select your .step file from your PC or drag and drop it onto the converter.
Choose the resolution you prefer for your file: low, medium or high.
Convert your .STEP file to .STL: click on the 'convert' button to start the conversion. The conversion process only takes a few moments. Download your STEP: download your .stl file and save it to your pc or mac.
Once you have your print file in .STL format you can quote your Parts and Prototypes online. PolyD is the Most Accurate, Fast and Secure Professional 3D Printing Service. If you want to experience the quality of MJF 3D printing, quote online now and take advantage of our "Free First Order" offer.
Happy 3D Printing!