Hi Engineers!
Do you know the difference between Varnishing, Standard Colouring and UV Resistant Colouring?
Painting consists of spraying an enamel onto the workpiece by qualified personnel in a spray booth. Standard or UV-resistant colouring is done by immersing the workpiece in a liquid colouring substance.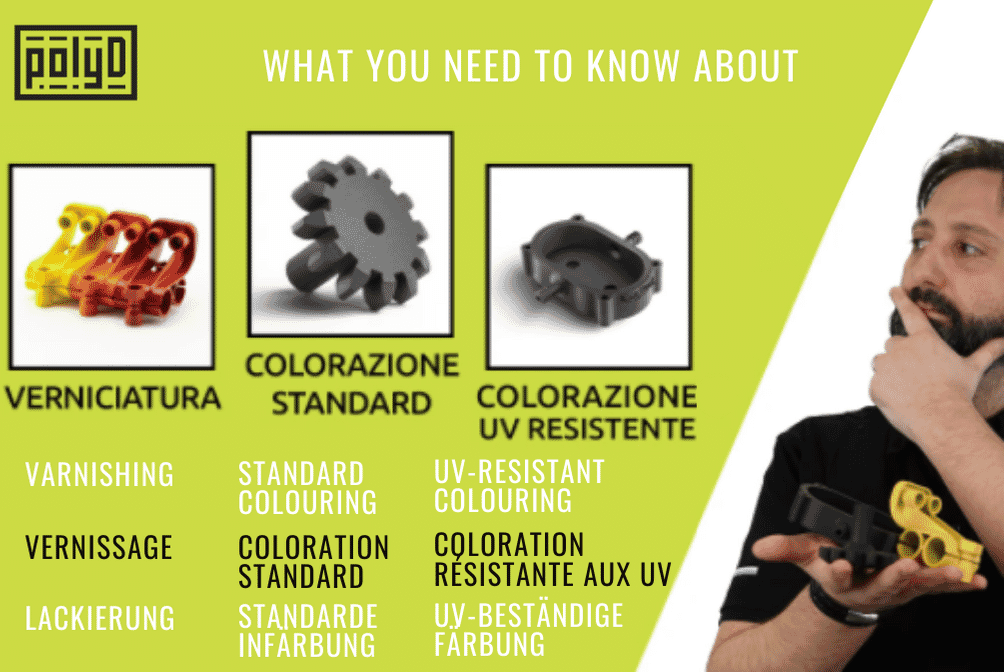 Differences between Varnishing, Standard Colouring and UV Resistant Colouring
What is varnishing in 3D printing?
Varnish is a glaze that coats the outer surface of the part; it colours and protects it from scratches and weathering, prolonging the life of the 3D printed part.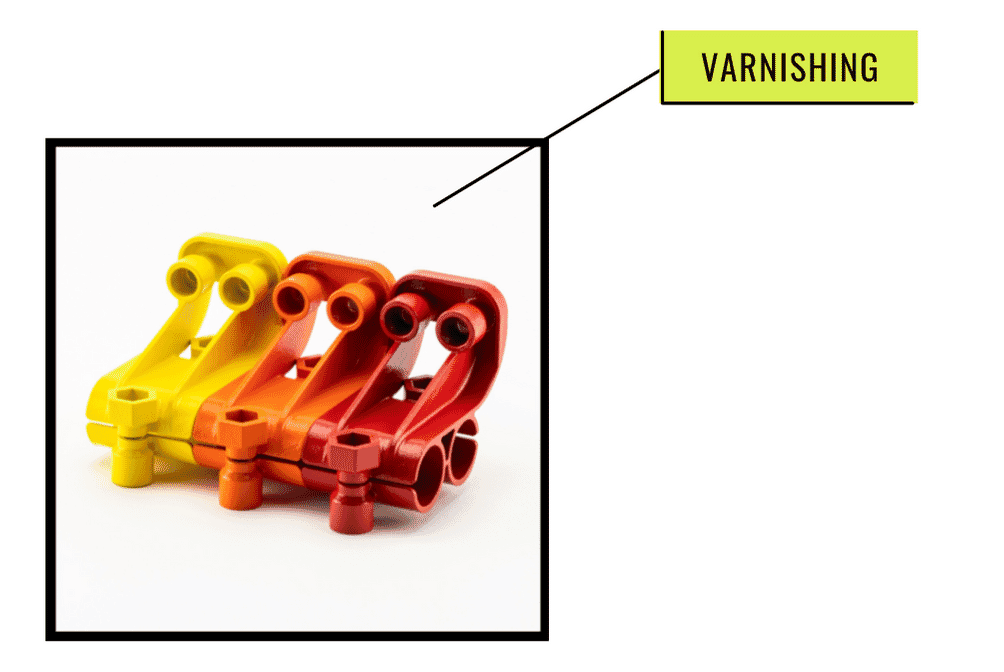 Our Varnish is a two-component polyurethane enamel with a semi-gloss finish of 30 gloss. To ensure optimum quality conditions, it is applied by spraying, using an industrial process, inside a spray booth. The coating creates an even modest thickness that can alter the smallest tolerances.
There are 8 RAL colours available in the PolyD finishes section. At the customer's request, it is possible to varnish to sample.
How is Standard Colouring in 3D Printing
Colouring is a process that takes place by impregnation. The workpiece is immersed with a liquid colouring solution at a temperature of 70 degrees for a certain time. In this way the component absorbs the colour in the first surface layers.
PolyD offers 2 variants of Black Colour. The Standard Black Colouring, which gives an excellent dark tint, is suitable for components used indoors and not subject to direct sunlight.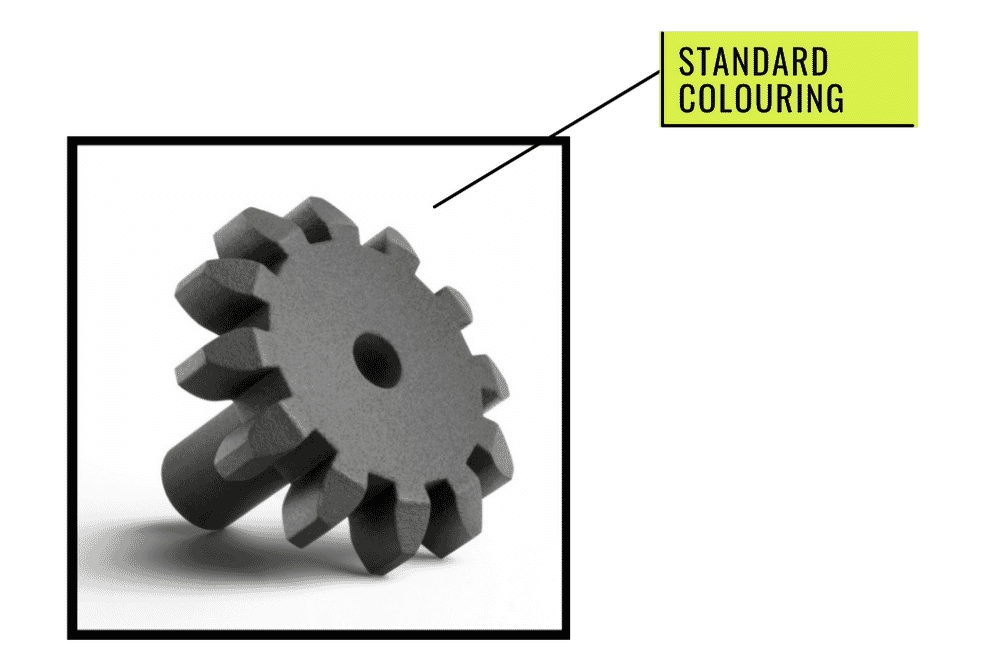 The UV Resistant Colouring
The second UV Resistant Black Colouring is so called because it has the additional feature of resisting direct sunlight without losing its dark tint.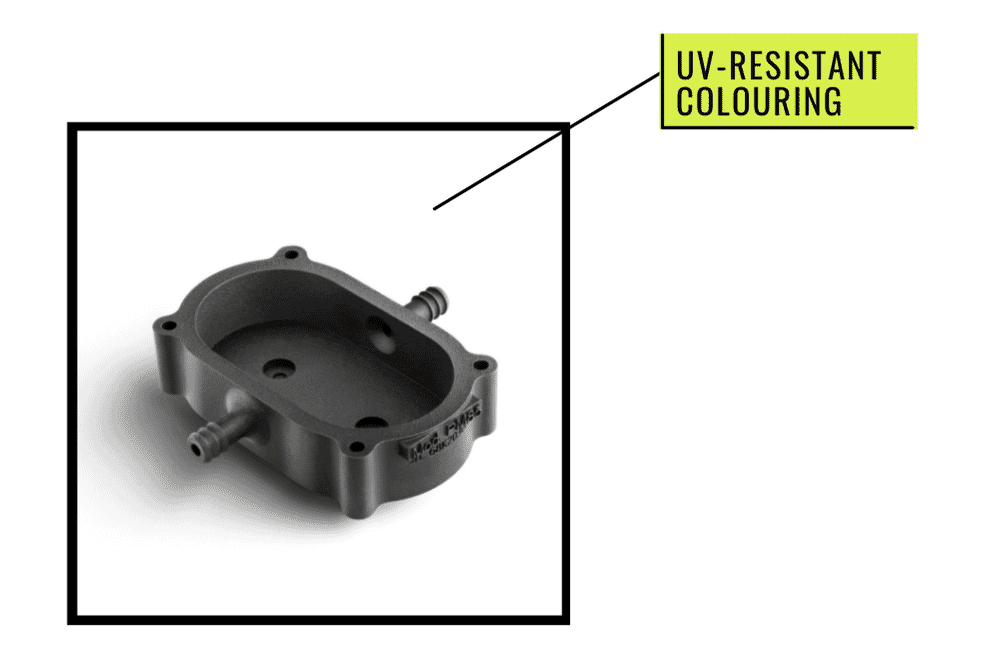 Conclusions
Spray painting on the part in a spray booth, or standard or UV-resistant colouring by immersion, are equivalent techniques. The choice is yours, depending on the requirements of your components, parts and prototypes. Both options are qualitatively and economically advantageous.
You can read more about the colour comparison on the PolyD page for you.
PolyD is the most Accurate, Fast and Secure service for the production of your Industrial 3D printed parts.
Create your Quote in seconds. Try it now. Sign up and get a €15 coupon now!